Excel unlock protected sheet vba. How to unlock Protected Excel Sheets without Password VBA 2019-04-14
excel unlock protected sheet vba
Sunday, April 14, 2019 7:02:39 AM
Franklin
How to Unprotect Excel WorkSheet with or without Password
Click on Review, select Unprotect Sheet. Then you need to select an attack from 4 types of password recovery attacks. Problem is, the sheet is insanely well protected. Lock the -project with a password 6. Please let me know if you have any doubts.
Next
VBA Code to Crack Password Protected Excel Workbook
How can I create the worksheet to allow these cells to be amended when the whole sheet is protected? If the sheet or workbook isn't protected with a password, this argument is ignored. Thank you very much for the macro it works fine with me. How to recover Excel file forgotten password? At this point, what you will do to get everything in your hands? This software ensures to provide an easy-to-use and an interactive interface to all its end users. It is the most common situation that users lost their workbook password and then search for solution. Wait for the process to recover your Excel file opening password, and then use it to unprotect the Excel file. Now it can't paste info into it, since it is locked.
Next
How to Unlock and UnProtect all Worksheets in a Workbook
But, when users keep their important safe and secure they protect it with the help of password. Unlocking the file with password is not a big deal, but the real problem arises when you lose it. If so, how do you do it? If you forgot the password, you cannot unprotect the Worksheet. Your done So the real problem for me right now is, I have all the passwords to unlock the sheet but no way of entering them. But if you forgot your Excel worksheet password, take it easy, and continue with your reading ahead. Then click the Remove Password button to let the program instantly remove the password protection on your Workbook or. Open your Workbook and navigate to Review tab, click Protect Workbook command button in the Changes group.
Next
www.sixtakes.comect method (Excel)
After that, run this macro and unlock it. It is one of the simplest and quick method to unlock Excel sheet. After that, in the blank worksheet, you need choose the cell A1 and press Ctrl + V key to paste all the content in the new worksheet. It specifies a case sensitive password to unprotect the Worksheet. There is no need to panic because with the help of this article, you know everything on how to unlock excel file and the best software to unlock password protected excel file. The problem is that the EnableSelection property will only remain in place as long as the workbook is open. When the Worksheet is unprotected, then you can edit the data on it.
Next
How to Protect/Unprotect all Worksheets with VBA in Microsoft Excel 2010
I like this forum that I decided to join it. But now if you cannot even recall the password to your relief, that's a really a pressing matter of concern. Have you followed the steps outlined above, but are still having trouble restoring full access to your worksheet? In this post we provide a macro that can be used to automatically remove Worksheet Protection to single Worksheet, some Worksheets or all Worksheets in a Workbook. It removes protection from the Worksheet. Now, the excel file is unprotected, it won't ask for password anymore the next time you open it. When working with macro or code has password protected, if you want to do any changes in the code first you have to unprotect the password at the beginning of the procedure and at the end of the procedure you have to protect it again. But when I go into the resulting worksheet, it is 'protected', but the user can select locked cells.
Next
VBA Code to Unlock a Locked Excel Worksheet 2016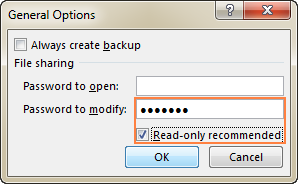 The problem is that when it protects it, the parameters are such that you can select locked and unlocked cells. There could be much vital information locked up within that worksheet and it's damn important lest you would not have protected it in the first place. We have to use unprotect method of worksheet object to remove password protection from the worksheet. Press F5 or click on the Run button it to execute it. So, if the users could enter the correct password, then he can review the content in the entire workbook. Do not change any of the code, you can download it in text document.
Next
3 Ways to Unprotect Excel Workbook Structure without Password
Now press F5 or click on the Run button and wait for few moments. If you have pass-protected your excel worksheets then whenever you open the file, it will ask you to enter the password which you will have to enter correctly to get access. Thus, in order to have a seamless and direct approach to remove password from Excel file, use tool. In this situation, you may need a professional Excel workbook password unlocker to help you! Write down the password and use it to unlock your excel file. After you have the saved add-in.
Next
How to Unlock an Excel Spreadsheet Password Protected File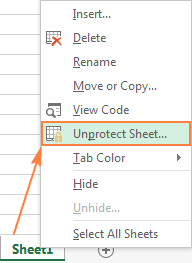 And you should neglect it just like that. Simultaneously press Alt + F11 to open the Visual Basic Editor. But you still are able to edit the data on the sheet. I recently had the circumstance where a client sent me a copy of a spreadsheet that was password protected, however the client no longer had the password to unlock the content. You can recover the forgotten password first, and then use it to unlock the Excel file. Double click on the add-in to open it 4. Another possible way of unlocking Excel sheet 2016 is you can copy protected Excel sheet content to unprotected sheet.
Next